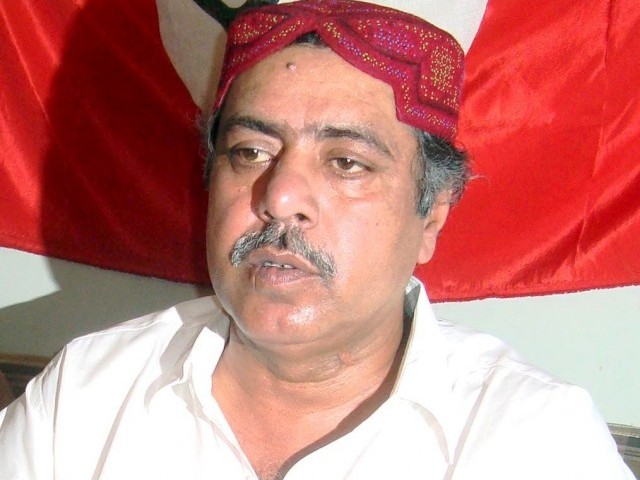 The 59th birthday of Bashir Qureshi, the late chairman of Jeay Sindh Qaumi Mahaz (JSQM) was celebrated in different parts of Sindh on Friday.
Bashir Qureshi started his political career as a student worker of the Jeay Sindh Students Federation (JSSF) during his Master's studies at the Agriculture University, Tando Jam. As a student, he also played democratic role by participating in the movement of restoration of democracy MRD during General Ziaul Haq's tenure.
Qureshi died on April 7, 2012, in Sakran taluka, Benazirabad. The party and his family believe that he was poisoned.
Shortly after his meal one evening, JSQM chairperson complained of chest pains and was rushed to a hospital where he passed away. While the doctors at the Sakrand hospital said that Qureshi had died of a heart failure, his son and JSQM's current chairperson, Sanan Qureshi, his brother Maqsood and the party's vice-chairperson, Dr Niaz Kalani cried foul, claiming that he was poisoned. A forensic team put together by the government found traces of phosphorous in Qureshi's body, but could not determine whether he was poisoned.
The Sindh government sent Qureshi's remains to a forensic lab in United Kingdom. The report compiled by the UK laboratory said that the chairperson of the Jeay Sindh Qaumi Mahaz (JSQM), Bashir Qureshi, was not poisoned to death. It states that his arteries were constricted and he might have died of heart problems.
It is pertinent to mention, only a few weeks before his death, Bashir Khan Qureshi had gathered hundreds of thousands of people from Sindh in Karachi city for a rally, which was named Sindh Freedom March, where he openly demanded freedom for Sindh.