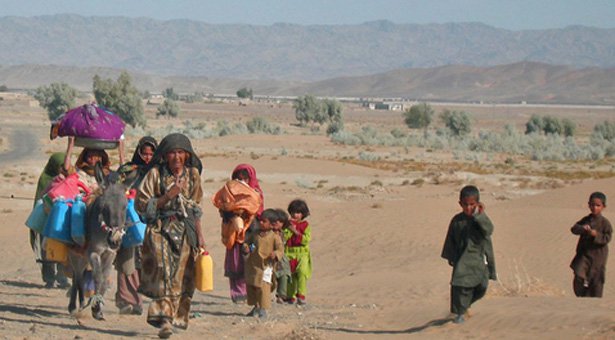 The water crisis in Gwadar is to worsen because of CPEC, a leading international researcher Christopher Crellin of Global Food and Water Crises Research Programme has said.
China funded multi-billion dollar China Pakistan Economic Corridor is a part of Chinese President Xi Jinping's Silk Road Economic Belt. It will connect China's largest province Xinjiang with Gwadar port in Balochistan. It was launched in 2015 and passes through Pakistan-controlled Kashmir and Balochistan, home to a long-running insurgency.
In a research, published on Future Directions International, Mr. Crellin confirms that Gwadar is going to see a surge in population, as people will migrate to the area due to CPEC related projects.
According to the analyst, a sudden increase in the migration to the area may at first seem positive, but it will place further strain on the water supply.
Balochistan has experienced drought since 2013. Rainfall levels are barely reaching a quarter of the usual annual rainfall, with some years recording no rainfall. The lack of rain has resulted in shortage of surface water.
According to a United Nations Development Programme study, the drought is, directly and indirectly, affecting 60 to 70 percent of the population in the province.
If Government continues with the CPEC projects without coming up with a solution to end the water crisis in Gwadar, it will only exacerbate the scenario.
Drought, climate change and increased water demand have made dams almost useless. Ankara dam, which was the first to service Gwadar, was built in 1994 and has dried up four times since.
Experts believe building dams cannot solve the problem of the water crisis in Gwadar and the Government does not have any long-term plans to overcome the issue.
On other hand, Baloch nationalists accuse Pakistan and China of pushing the locals to the verge of leaving their native city due to the water crisis. And the locals also carry similar views for delaying planting the desalination plants.
"In the 21st century they cannot evacuate a whole city, so they are doing it by creating an artificial water crisis so that people leave the city and they (Chinese and Punjabi) can start settling on our ancestral lands", a local activist told The Balochistan Post correspondent in Gwadar.
The experts have argued that if the CPEC is to remain viable, the water crisis cannot be overlooked and must be addressed.
It is pertinent to mention that security forces and personnel of construction company FWO, which is a subsidiary of Pakistani military, deployed for CPEC have continuously been targeted in the region by Baloch armed groups, who claim the CPEC was initiated without the 'will and approval of Baloch nation'.